Project ACES began back in 1989 by Physical Education Teacher Len Saunders, of New Jersey. The program was also designed to show the importance of Physical Education in school!
Please join us to volunteer if you can. Click on the Sign-Up genius link below.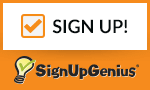 If you have not volunteered in the school please be sure to fill out the following form and turn it into mrs. Marchuk in the office.