It is not too late to be a Sidewalk Chalk Artist!
To celebrate the beginning of  the school year and Blythe Park creativity, we are hoping to chalk all the sidewalk squares that surround Blythe Park with beautiful artwork.  So, come join in the fun!
How does it work? Different from last year, this event will no longer be a fundraiser.  It will just be a fun, creative, family art event.  To participate, please sign-up by clicking on the sidewalk chalk art program button at www.blytheparkpta.org. The button is located on the right banner.
Squares can be chalked with your artistic design on Tuesday, September 8th,  Wednesday, September 9th or Thursday, September 10th right after school or in the evening.   Locate your square by looking for the craft stick with your name on it.  You will need to bring chalk to make your creation.
On Thursday, your child will be able to chalk their square during lunch recess.  If you would like your child to chalk during lunch, please click on the button below to sign them up.  Please make sure to send your child with some chalk too!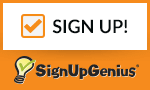 As part of this year's Fall Parent Night on Thursday, September 10th, we will have our very own art gallery on display.
Tips for great sidewalk art:
Create a simple design – either abstract or an object

Plan to use the whole square

Rub chalk in design and then use your hands to spread over entire area

Google sidewalk chart art for ideas
Any questions, contact blytheparkpta@yahoo.com or Aimee Sahlas @aimeesahlas@hotmail.com